Community Relief - Piapot First Nations Fire
Posted on 01 November, 2018
General
---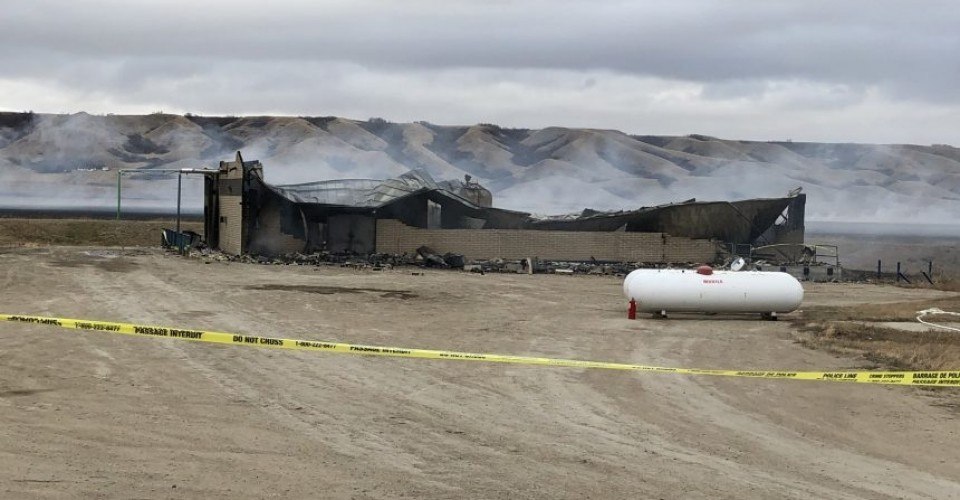 *Photo source: Andrew Shepherd of 980 CJME
It appears at least once a year we are stuck with upsetting news of a local disaster causing distress to entire communities. It's times like these when our Canadian compassion shines – from the Fort McMurray fires to the Humboldt Broncos accident, fellow communities across our country continue to step up in times of need to provide relief to those who need it most.
As a company, Arctic Chiller strives to play our part in such community relief by lending a helping hand whenever possible. A recent story that caught our attention as something that we could assist with was the water treatment facility fire on the Piapot First Nation just northeast of Regina, SK.
As 980 CJME reports - a fire which developed overnight on Monday (October 29, 2018) has left the water treatment facility on the Piapot First Nation in a smoldering ruin and the community with no access to drinking water.
Ira Lavallee is an elected councilor for Piapot First Nation and spoke with 980 CJME Tuesday morning. He said they do not know what caused the fire but it started inside the facility late Monday night. The embers then sparked a grass fire which was controlled but still burning as of Tuesday morning.
The bigger challenge the community now faces is how to get access to water.
"Our entire community depends on that water plant, so we're in a real tough spot,"
he said, noting all of the main buildings including the school were connected to it. Classes at Piapot School were cancelled for the day as a result of the fire.
He said there are about 230 homes on Piapot, 17 of which were directly hooked into the water treatment facility. The rest had water delivered by truck from the facility into a cistern.
Despite the destruction of their water plant, Lavalle said community members are coming together and pitching in to help out.
"For now we're trying our best to maintain and manage, there's a positive mood in the community and we have lots of people stepping up to help out. We need to deliver potable water to the homes that need it and we have a lot of community members to help us do that. For now, we are constructing alternative plans to have water delivered to homes."
Lavallee said the band council and chief have been meeting with representatives from Indigenous Services and provincial officials with emergency management and fire safety to develop a plan.
In partnership with Sysco, Arctic Chiller will be supplying just under 1,000 bottles of water to the Piapot Community. It is our hopes that this will alleviate some of the stress until a long term plan can be implemented. Should any of our customers like to contribute to this donation Arctic Chiller will gladly add your water to our delivery.
Want to put your private label water to work? Contact our office at 780.449.0456 or email sales@arcticchiller.com to learn how you can assist in further community support efforts.


Click here to view the full 980 CJME coverage of this story.